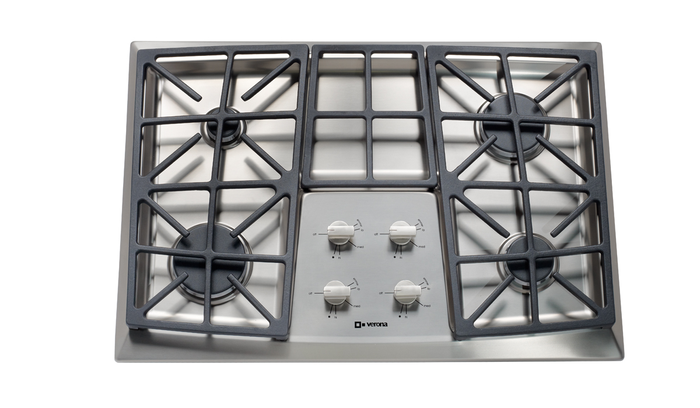 Gas Cooktop VECTGV304SS 30in -Verona
MSRP:
$1,399.00


Our Price: $1,299.00
Verona Built-In Gas Cooktop Sealed Burners Stainless Steel
VECTGV304SS 30" Gas 4 - Burner Front Control. Cook like a pro with variable simmering and searing BTUs and infinite settings of easy-to-clean high performance sealed burners. Your passion for cooking will never be extinguished thanks to automatic electric spark ignition. Burners light at any position on the knob and re-light if extinguished. Let your pot runneth over with our easy to clean permanently sealed burners. Spills cannot enter the burner box providing easy cleanup. One-piece, extremely durable stainless steel top Separate spill collection areas; each area holds up to 1-1/2 quarts of liquid spillover Permanently sealed burners - spills cannot enter burner box Electronic Ignition & Re-Ignition Stainless knobs with push-to-turn safety feature Customer-removable knobs, grates, and burners/caps Overall / burner box dimensions designed to fit the majority of similarly sized cooktop cutouts.
General Features Size : 30-inch Type : Gas LP Kit Included Stainless Control Knobs Stainless Steel Surface 120 Volt 60Hz. 15 Amp Burner Features 4 Sealed Burners Left Front : 15,000 BTU Right Front : 12,000 BTU Left Rear : 4,000 BTU Right Rear : 12,000 BTU Cast Iron Grates and Caps Continuous Grates Dimensions CUT OUT Width (in) : 28 1/2" Depth (in) : 19 3/8" Height : 3" OVERALL Width (in) : 30 3/4" Height (in) : 3" Depth (in) : 21"