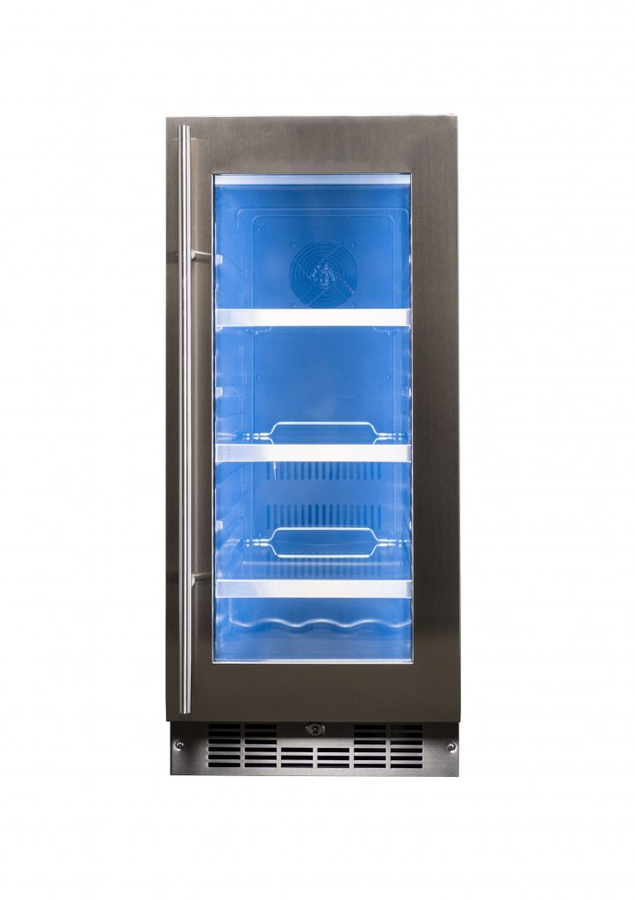 Silhouette SPRBC031D1SS 15 Inch Beverage Cooler
MSRP:
$1,430.00


Our Price: $1,330.00
Silhouette SPRBC031D1SS Under Counter Beverage Cooler 66 Cans 4 Bottles Stainless Steel UPC:EAN: GTIN: -67638024822
Silhouette SPRBC031D1SS Beverage Cooler 66 Cans 4 Bottles DBC031D1BSSPR Replaced by SPRBC031D1SS - New Silhouette Pro branded 15" flush fit built-in beverage center. Stores up to 74 beverage cans. Frost free fan forced cooling, chills beverages to 2 C, reversible door, flush fit built in, smudge resistant stainless steel door frame and full length towel bar handle, Perimetrial lighting down the sides casts a warm glow and includes 3 different light settings, low-E glass, temperature alarm, full-extension shelves and ball bearing glides, anti-vibration system. Quiet operation (39db) and seamless capacitive touch controls. Integrated door lock. 24-month warranty.
Silhouette SPRBC031D1SS Silhouette Pro branded 15" flush fit built-in beverage center. Stores up to 74 beverage cans. Frost free fan forced cooling, chills beverages to 2 C, reversible door, flush fit built in, smudge resistant stainless steel door frame and full length towel bar handle, Perimetrial lighting down the sides casts a warm glow and includes 3 different light settings, low-E glass, temperature alarm, full-extension shelves and ball bearing glides, anti-vibration system. Quiet operation (39db) and seamless capacitive touch controls. Integrated door lock. 24-month warranty. UPC/ EAN/ GTIN: 67638024822