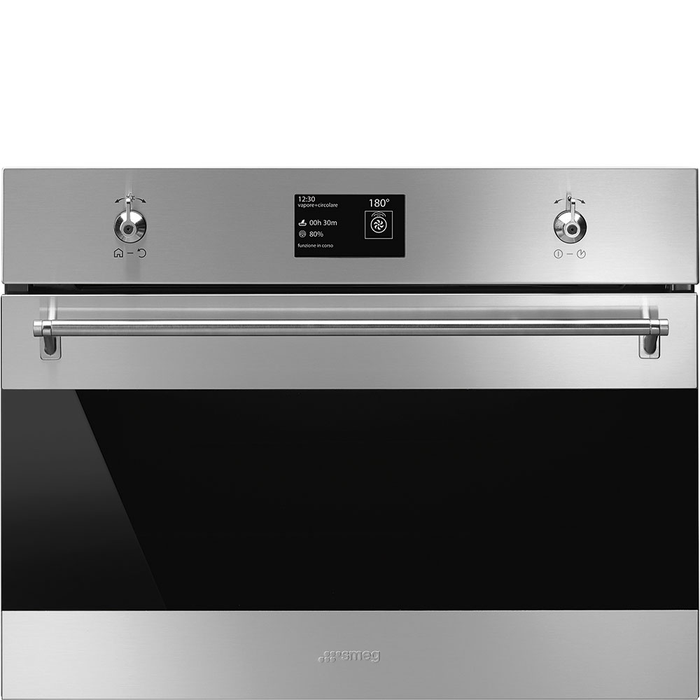 Smeg SFU4302VCX 24 Inch Steam Oven
MSRP:
$3,899.00


Our Price: $2,924.00
Smeg SFU4302VCX Combi 2.54 cu Ft Conv+Steam Steam Oven Classic Vapor-Clean Stainless Steel
Smeg SFU4302VCX Steam Oven Classic Vapor-Clean Fingerprint-proof Classic Series 24"(61cm) Combi Steam Oven (Steam/Conv) with LCD Controls & Display, 2.4cu. ft. EverClean Thermoseal Cavity, 20 Programs/14 Funtions, True European Convection, 40.5oz.(1,197mL) Automatic Water Tank, Vapour Clean, Soft Close Oven Door with Removable Glass, Full Extraction Rails, Deep Enmaled Tray with Mesh, Water Carafe, Sponge, Boiler Cover Incl.
Smeg SFU4302VCX Classic Series 24"(61cm) Combi Steam Oven (Steam/Conv) with LCD Controls & Display, 2.4cu. ft. EverClean Thermoseal Cavity, 20 Programs/14 Funtions, True European Convection, 40.5oz.(1,197mL) Automatic Water Tank, Vapour Clean, Soft Close Oven Door with Removable Glass, Full Extraction Rails, Deep Enmaled Tray with Mesh, Water Carafe, Sponge, Boiler Cover Incl. UPC/ EAN/ GTIN: 8017709252076